2022 MADD Teen Influencer Institute
July 19, 2022

-

August 16, 2022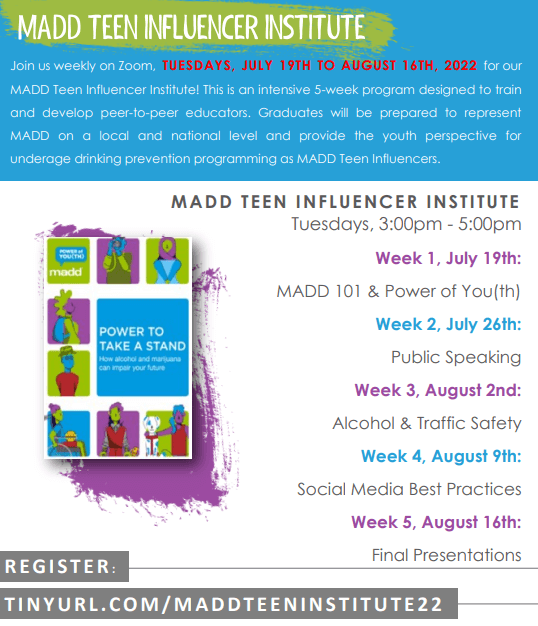 MADD California is excited to host our 2nd annual MADD TEEN INFLUENCER INSTITUTE! As substance abuse and traffic safety continue to be concerns, we need our youth voices more than ever to help correct these harmful trends.
Youth can join us weekly on Zoom TUESDAYS, JULY 19TH TO AUGUST 16TH, 2022 for this intensive 5-week program designed to train and develop peer-to-peer educators. Graduates will be prepared to represent MADD on a local and national level and provide the youth perspective for underage drinking prevention programming as MADD Teen Influencers. They will also be capable of planning and implementing awareness activities for their schools and communities.
REGISTER: WWW.TINYURL.COM/MADDTEENINSTITUTE22
Tuesdays, 3:00pm – 5:00pm
Week 1, July 19th: MADD 101 and Power of You(th)
Week 2, July 26th: Public Speaking
Week 3, August 2nd: Alcohol & Traffic Safety
Week 4, August 9th: Social Media Best Practices
Week 5, August 16th: Final Presentations
Please share widely with your network and contact Melissa Estelle at (714) 838-6199 ext. 6653 or Melissa.Estelle@madd.org for more information. We look forward to working with your teens this summer!