A Candid Conversation about Systemic Racism
March 19 @ 5:30 pm

-

6:30 pm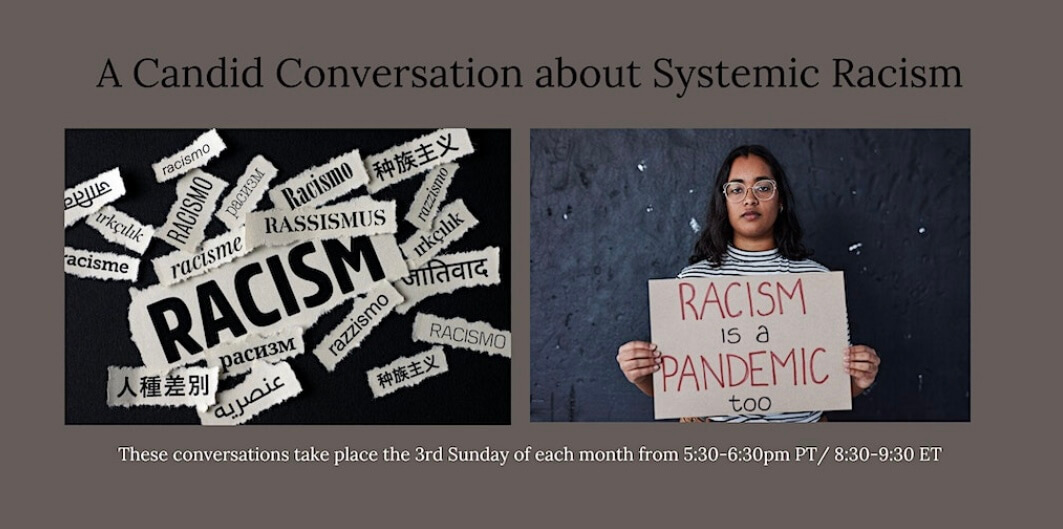 This webinar, A Candid Conversation about Systemic Racism, is meant to be an honest and authentic conversation about the long-time injustice of racism in America. We discuss systemic racism, in an effort to dismantle white hatred, white violence, and white crimes, from the inside out.
Our greatest intention is to acknowledge the lives and highlight the voices of BIPOC community members, giving them a safe space to share their own experiences, challenges and hopes, without having to educate white people. When we do not have a guest, we use the webinar time to discuss topics that are relevant in making culture change and inspiring sustainable action to support the mission of dismantling systemic racism.
We hope that you will attend and join us in honoring and respecting the lives of Black, Brown and Indigenous people.
Jodi Lewis and Misha Safran look forward to discussing with BIPOC identified friends, BIPOC identified colleagues and other BIPOC community members their thoughts and perspective on what has been going on in this country (USA) for a very long time or what has been going on in their lives as a result of systemic racism.
THIS WEBINAR is for ALL audiences who wish to respect and honor BIPOC lives and voices.
***IMPORTANT***
Once you register here on eventbrite, your registration is NOT complete ~ We use the Zoom Webinar Platform which requires you to register in order to access the event by assigning you your own unique link. Because eventbrite does not provide you with the link needed to attend, BE SURE to REGISTER via ZOOM using the LINK BELOW: https://us02web.zoom.us/webinar/register/WN_wf0hsfRASweO_TzpKaj2Jg