Community Forum on Vietnamese American Services Center Senior Meal Program
February 25 @ 1:30 pm

-

2:30 pm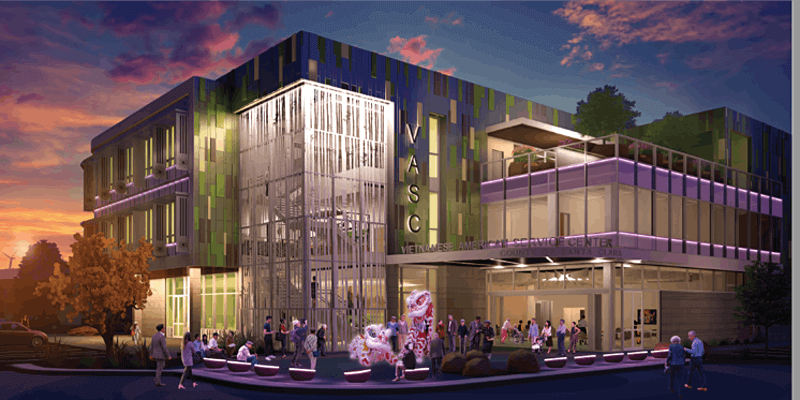 About this Event
The County of Santa Clara, Senior Nutrition Program (SNP) is creating a new meal program site at the County-owned Vietnamese American Services Center (VASC), at 2410 Senter Road, in 2021. VASC will have a dedicated kitchen and dining area in for this purpose. The building is slated for completion in Spring 2021 with a formal grand opening in Fall 2021. While SNP has established protocol for its congregate meals sites and must comply with federal, state and local requirements, the program design and details for this site have not determined and community input is desired.
Services at the nutrition site will include providing ethically-tailored, cooked-on-site congregate meals to older adults age sixty and older or other qualified participants using the criteria in the Older Americans Act. These meals will be normally served on-site in a communal setting, but will be served to-to, curbside, or home delivered while Covid-19-related service adjustments are in place. The services may also be expanded to provide meal delivery to homebound older adults in the future.
In anticipation of this upcoming solicitation, SNP seeks input from community members and stakeholders on the nutrition program's design. If you are an older adult, a community partner, congregate meals provider, service provider at VASC, community member, neighbor, or any other interested person, you are invited attend our community forum and provide input for the solicitation.
Your contribution is important to the successful creation of this exciting new program! Please share this announcement with anyone who might be interested.
—
Chương Trình Dinh Dưỡng cho Cao Niên Hạt Santa Clara (SNP) đang mở một địa điểm mới tại Trung Tâm Phục Vụ Việt-Mỹ (VACS) thuộc về County, số 2410 Senter Road, vào năm 2021. VACS sẽ được tặng một nhà bếp và một nhà ăn để phục vụ mục đích này. Nơi này dự kiến sẽ hoàn thành vào mùa Xuân năm 2021, và sẽ được khai mạc vào mùa Thu năm 2021. Trong lúc Chương Trình SNP đã thành lập những giao thức tại các địa điểm dinh dưỡng cũ và phải tuân theo các yêu cầu của liên bang, tiểu bang và địa phương, thiết kế và chi tiết cho nơi mới này chưa được quyết định và ý kiến cộng đồng rất đuọc hoan nghênh.
Sự phục vụ tại nơi dinh dưỡng sẽ bao gồm những gì phù hợp với đạo đức, thức ăn nấu tại các địa điểm được dành cho những ai sáu mươi tuổi trở lên hay những ai hội đủ tiêu chuẩn chiếu theo luật Older Americans Act. Thức ăn này thường được phục vụ theo cách thiết lập chung cho cộng đồng, nhưng sẽ được làm theo cách đến nhận, hay giao thức ăn tận nhà, trong lúc dịch Covid-19 sự phục vụ sẽ được điều chỉnh tại chỗ. Chương trình có thể mở rộng sau này để cung cấp thức ăn tận nhà cho những người lớn tuổi không đi lại được.
Trước khi có sự trưng cầu này, Chương Trình Dinh Dưỡng SNP tìm kiếm ý kiến đóng góp của các thành viên cộng đồng và những ai liên quan trong chương trình dinh dưỡng thiết kế này. Nếu quý vị là một người lớn tuổi, một cộng sự trong cộng đồng, nhà cung cấp thức ăn cho các địa điểm, người phục vụ tại VACSC, thành viên trong cộng đồng, hàng xóm, hay bất kỳ ai muốn quan tâm, đều được mời đến dự buổi diễn đàn này và góp ý trong buổi trưng cầu này.
Sự góp ý của quý vị rất quan trọng cho việc thành công của Chương Trình đầy thú vị này! Xin chia xẽ tin này với bất kỳ ai muốn tham gia.