Make History – Elevate Women: An International Women's Day Celebration
March 8, 2021 @ 7:00 am

-

10:00 am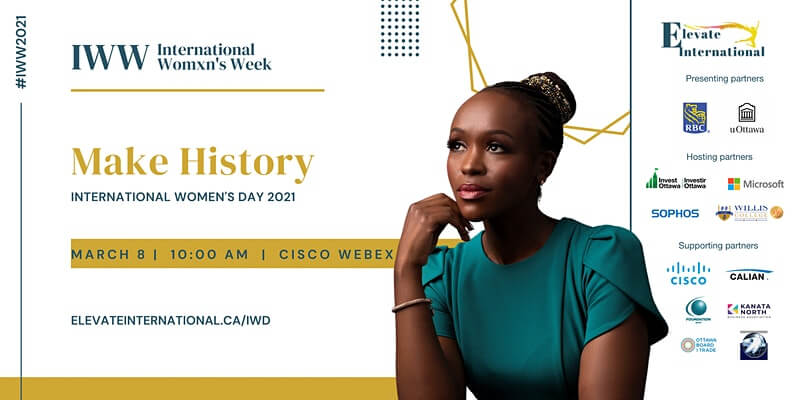 About this Event
This event is the third of three events Elevate International will be hosting in honour of International Women's Day. For more information on the other exciting, impact-focused events, see below.
Celebrate the historic achievements of women leaders while empowering more women to break barriers and achieve even greater impact going forward.
Background:
Women have been making history since the beginning of time, but their contributions are often left out. Not anymore. This year, we will be inspired by those who have paved the way and empowered by current leaders who are elevating more women and helping them break down barriers.
The Challenge:
There has never been a more important time to support women in the workplace and the advancement of women in leadership. The events of 2020 and ongoing impact has turned workplaces upside down and intensified the challenges that women already face. Women are more likely to have been laid off or took a leave of absence during the COVID-19 crisis.
As a result, more than one in four women are contemplating what many would have previously considered unthinkable: scaling down their careers or leaving the workforce completely. Today, companies risk losing accomplished women leaders, future women leaders and years of hard work to advance gender diversity.
Join Us:
We invite you to join us for an interactive conversation with national and international leaders on these and other critical topics that influence the leadership journey of women.
Agenda
Event kick-off
10:00 am – 10:05 am
Solange Tuyshime, Founder and CEO of Elevate International
10:05 am – 10:20 am
The Honourable Jean Augustine, P.C., C.M., O.Ont., C.B.E
10:20 am – 10:40 am
Marjolaine Hudon, Regional President, Ontario North & East at Royal Bank of Canada
10:40 am – 11:00 am
Michael Anderson, Chief Customer Support Officer, Sophos
Panel Discussion
11:00 am – 12:00 pm
Women Leaders Driving Global Economic Revolution and Recovery Hosted by Invest Ottawa in partnership with Women in Automotive Technology (Silicon Valley) and OceansAdvance (St. John's, NF)
Abstract: COVID-19 delivered a decisive blow to global health and our global economy. Recent research from the McKinsey Global Institute underscores the devastating impact of COVID-19 on women. It shows:
Women's jobs are 1.8 times more vulnerable to this crisis than men's jobs
Women make up 39% of global employment but account for 54% of overall job losses
If we fail to take targeted strategic action, global GDP growth could be $1 trillion lower in 2030 than it would be if women's unemployment tracked that of men in each sector
Taking action now to advance gender equality could be valuable, adding $13 trillion to global GDP in 2030 compared with the gender-regressive scenario
This crisis creates the opportunity for women leaders in powerful global industries take strategic action to address gender inequality and help revolutionize our global economy. The time is now. This executive International Womxn's Week panel will provide inspiration and actionable insight with a focus on opportunities for women leaders, decision-makers and influencers to:
Catalyze the growth and performance of innovation-intensive technology industries and achieve increased impact during unprecedented times;
Economically empower current and future generations of women from every walk of life
Help build a rich, robust and diverse talent pipeline for the technology sector, and the many industries and markets it supports; and
Take targeted action to drive gender equality and the recovery of our global economy.
The following North American leaders will offer inspiration and actionable insight from strategies and successes to challenges, lessons learned and recommendations for the future: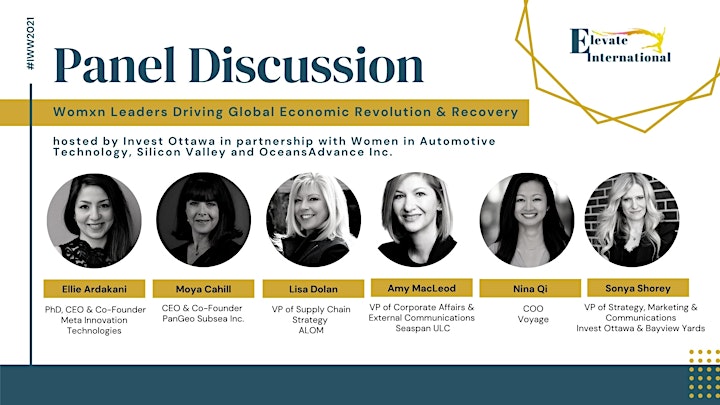 Ellie Ardakani, PhD, CEO and Co-Founder, Meta Innovation Technologies; City of Ottawa Immigrant Entrepreneur Award Winner (2019), Ottawa, Ontario
Moya Cahill, CEO & Co-founder PanGeo Subsea Inc.; St John's, Newfoundland and Labrador
Lisa Dolan, Vice President, Supply Chain Strategy, Alom Technologies, Fremont, California
Amy MacLeod, Vice President, Corporate Affairs and External Communications; Seaspan; Ottawa, Ontario and Vancouver, BC; Director of the Board, Queensway Carleton Hospital
Nina Qi, COO, Voyage, Silicon Valley, California
Sonya Shorey, Vice President, Strategy, Marketing and Communications, Invest Ottawa, Bayview Yards and Area X.O, Ottawa, Moderator
12:00 PM – 12:30 PM
An executive leader from the University of Ottawa
12:30 PM – 1:00 PM
Katja Iversen, Executive Adviser, Author and Advocate; Former President/CEO Women Deliver
#IWW2021 #ElevateWomen #MakeHistory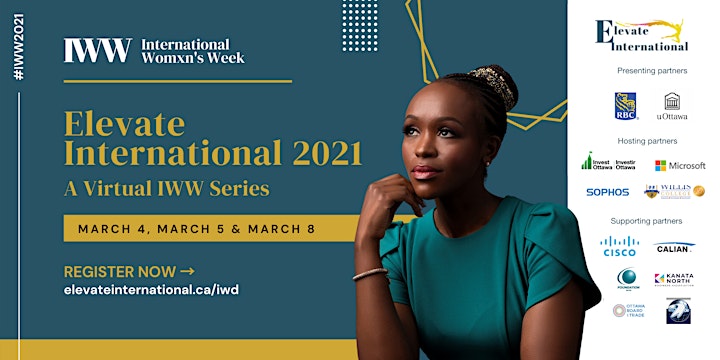 Background information and other Elevate International IWW 2021 events:
Traditionally hosted on Parliament Hill in Canada's Capital, Elevate International is honoured to host an annual leadership event dedicated to advancing the leadership and economic empowerment of women. It aims to inspire and equip more women to pursue leadership roles; empower a truly diverse and inclusive workforce, and help more aspiring leaders to realize their full potential.
Our Goal: Together, we can help more women leaders achieve an even greater impact on our society. With the support of committed partners, we look forward to creating a powerfully elevating experience that attracts stakeholders from across our region, throughout the country, and around the world.
Launching Our Virtual Series: To help keep our community healthy and safe, Elevate International is transforming our one-day annual International Women's Day conference on Parliament Hill into an engaging and interactive virtual three-part virtual event series with broad global reach. This series will bring together women, champions and allies who are passionate about diversity, equity, and inclusion, and creating new leadership opportunities for women from every walk of life.
Event #1: Women Leading Globally with Elevate International
March 4, 2021 11:00AM – 12:30PM (EST)
Acknowledging women in leadership paving the way, exploring the challenges women are facing in the workplace and how to foster diversity in leadership.
Event #2: Women Leading in Philanthropy with Elevate International
March 5, 2021 11:00AM – 12:30PM (EST)
A conversation with female philanthropists on the most critical challenges facing women and girls today and how we can invest in effective solutions for long-term change.
*Times are displayed in EST