USC International Students Virtual Career Fair
March 30 @ 5:30 pm

-

March 31 @ 9:30 pm

$300 – $750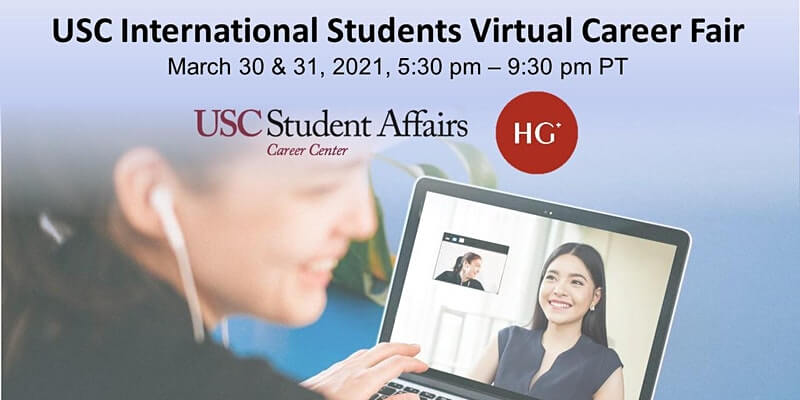 About this Event
International Students Two-Day Virtual Career Fair
Dates: March 30 & 31, 2021
Time: 5:30 pm – 9:30 pm PT
(8:30 am – 12:30 pm on March 31 & April 1 China Standard Time)
Location: The Brazen virtual career fair platform; the event can be accessed anywhere with an internet connection.
Attendees: The fair is open to international students from all majors, class years, degree levels, and alumni, as well as all employer industries.
In addition to the talented & diverse USC students body, this fair will be attended by students from other top rated US Universities. We expect around 5,000 student attendees. Other attending schools include:
Pepperdine University
Arizona State University
Syracuse University
Michigan State University
Bryant University
Bentley University
We will be adding more schools over the coming months.
Why Go Virtual?
The virtual career fair platform provides incredible features that allow you to better screen and connect with outstanding candidates. With the virtual event, we are no longer limited by space and can help you meet even more talented students in less time to maximize the return on your investment.
Gain access to the incredibly talented and diverse Trojan family, which consists of students and alumni from all over the world.
Engage with even more students at one event! Since this event is held online, we are opening it up to students from other US Universities, giving you the opportunity to reach thousands of potential candidates with one event.
Interact with more students! Use one-on-one video or audio chats or engage with several candidates at the same time by using multiple one-on-one text-based chats on the Brazen platform.
Avoid all the costs associated with in-person career fairs, such as travel, lodging, and shipping costs.
Save time! Prepare answers to commonly asked questions that you can copy and paste into chat boxes. If you like where the conversation is going, easily switch to a video chat.
How does a virtual career fair work?
Why should your organization participate? 
Interact with students from multiple, top rated Universities, all in one event.
Hire bilingual Candidates, especially Mandarin Chinese, Cantonese & Hindi.
Recruit American-educated talent with foreign expertise.
Recruit students in all majors including Tech, Business, Communications, Finance, Entertainment, Sciences and more!
Cost to attend:
Registration cost includes: Unlimited representatives, up to seven job postings at the fair, easy to use follow-up tools, as well as candidates' data and resumes. To help you maximize your time in meeting with candidates, we encourage you to bring as many representatives as possible to help staff your booth.
Standard Registration
One Day: $300
Both Days: $450
Career Fair Sponsorship
One Day: $500
Both Days: $750
Sponsors receive premium location on the Brazen event page on the day of the event – students will see you first! Sponsors also receive inclusion in social media posts and the Career Center Weekly (our newsletter), and are recognized as a sponsor in a full-page ad in the Daily Trojan (USC's campus newspaper).
Participation Requirements
Your organization must be recruiting to fill at least one paid internship or part-time/full-time position.
Your organization must be open to becoming a CPT or OPT employer or sponsoring an H-1B hiring for overseas opportunities
Graduate programs and fee-based programs will not be considered.
Without written permission from the Director of Employer Relations and Research, third-party recruiters are not permitted to participate in any on-campus recruiting events unless they are recruiting for their organization and not for other clients.
Attending company MUST provide the hiring position(s) title and job description to HG Plus prior to the career fair.
Exhibitors are not allowed to promote his product or services.
*HG Plus reserves the rights to refuse any exhibitor who fails to follow any of the event guidelines. A refund will be issued case by case.
*A refund requested by exhibitor will not be accommodated after 4/20/2021