VIRTUAL 40-HR DOMESTIC VIOLENCE ADVOCATE TRAINING
July 12, 2022 @ 9:00 am

-

August 4, 2022 @ 2:30 pm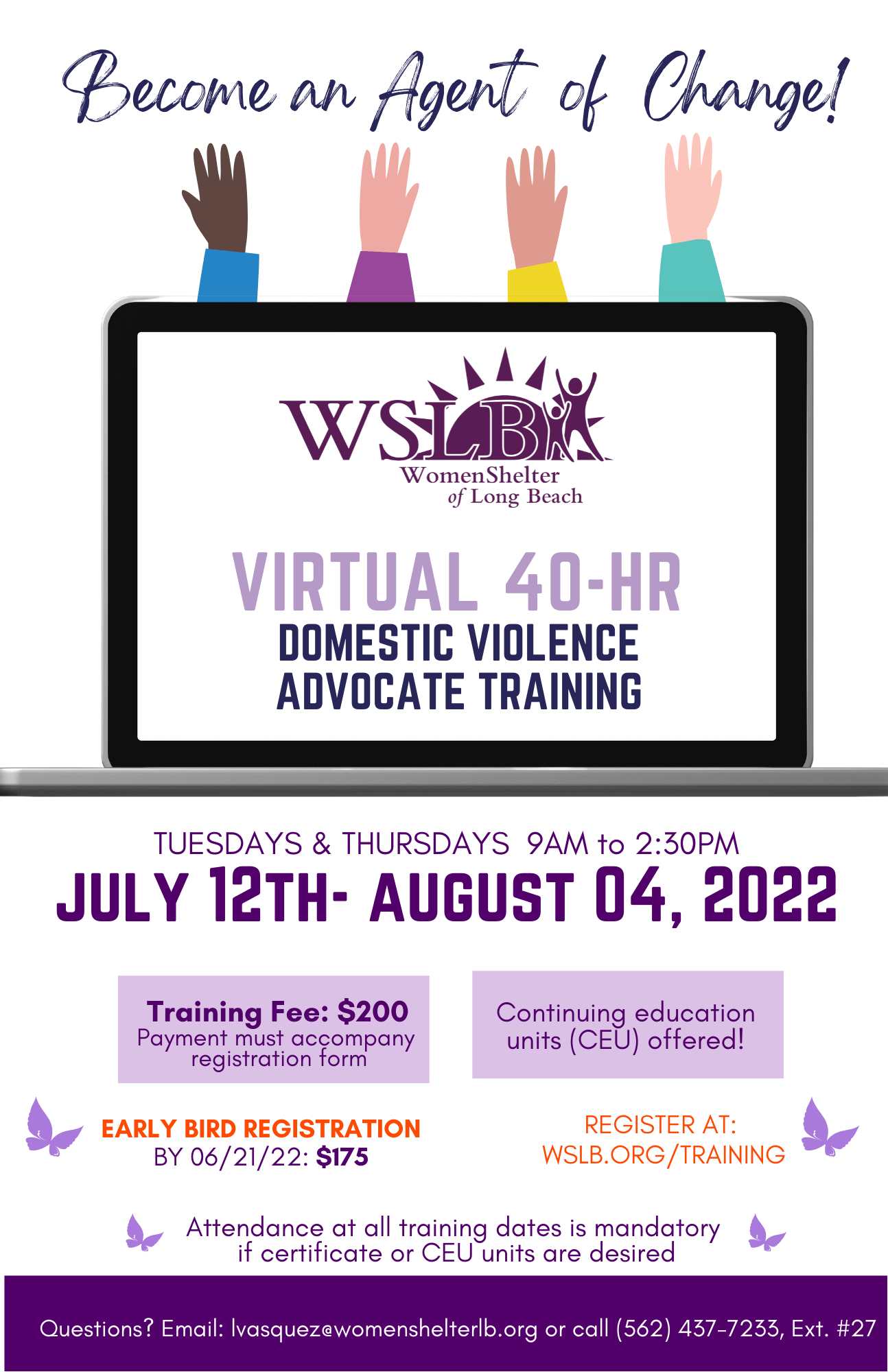 As required by state law California Evidence Code Section §1037.1(a)(1), all employees and volunteers who will be providing direct client services at any domestic violence service agency are required to receive 40 hours of training on domestic violence. WomenShelter offers this state-mandated 40-Hour Domestic Violence Advocate Training several times each year.
We are offering our Summer 40-hour Domestic Violence Counselor Advocate Training through an online platform as a precaution and in adherence to current health/safety guidelines.
---
This upcoming training will be facilitated through an online format via Zoom. The training topics will remain the same as those covered during our in-person training, including domestic violence 101, trauma-informed care, and resources/support for victims and survivors.
The training will begin on Tuesday, July 12, 2022, and will end on Thursday, August 04, 2022. Training days will be held Tuesday, and Thursday beginning at 09:00 am to 2:30 pm.
Materials and Zoom links will be provided prior to each training date. Participants are required to keep video feeds on and engage in active participation during all training times, as well as ensuring a secure and reliable internet connection. Space is limited and on a first come, first serve basis.
Please be aware you must complete the full 40 hours of training in order to receive your certificate of completion. If you have any questions, please contact Lesly Vasquez lvasquez@womenshelterlb.org or Nina Taweepong  at ntaweepong@womenshelterlb.org