Virtual AAPI Job Fair
April 7 @ 7:00 am

-

April 8 @ 8:00 pm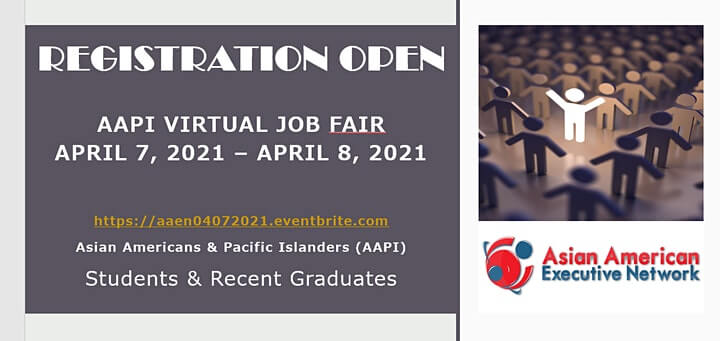 About this Event
The first-ever AAPI Virtual Job Fair is now open for registration. This job fair is designed to provide Asian American Pacific Islander job seekers meaningful opportunities to explore potential employment with employers friendly to the community.
The target participants in our pilot program on April 7 and April 8, 2021 (9am-5pm – central time) is FREE for job seekers and employers for basic access including assume to all resumes, job posting, and scheduling of one-on-one interviews on Day 2. Sponsorship opportunities also available for additional interaction with job seekers on Day 1.
– Day 1 – Education webinars for job seekers with interactive session with sponsorship and special guests.
– Day 2 – Interactive pre-scheduled or day of sign-up for online & one-on-one interview and discussion between job seekers and employers
Targeted Job Seekers (all majors):
1. Students with AAPI heritage who are current enrolled in an American University.
2. International Students from Asia and Pacific Islands who are currently enrolled or recently graduated from an American University.
3. Recent AAPI Graduates – from a college or university in America.
Targeted Employers (all sectors)
1. Employers with internship for students & part-time or full-time positions.
2. Employers interested in engaging AAPI students and recent graduates
3. AAPI Small Business are welcome.
4. Global companies with job opportunities in US and Asia.
Meet the current core members of the Virtual Job Fair Planning Team:
– Don Hyun Kiolbassa – Managing Partner – The Law Offices of Kiolbassa, Holmes, & Ansong
– George Chunkau Mui – Founder & Moderator of Asian American Executive Network
– Thy Nguyen – Associate Vice Provost, Illinois Institute of Technology
– Jean Riordan – Executive Director Career Services – University of Illinois in Chicago
– Justin Chin – Director of Career Services – Eastern Oregon Univerity
– and many more…