Women4Good May Community Call: Standing with the AAPI + Women Community
May 12 @ 5:30 pm

-

6:30 pm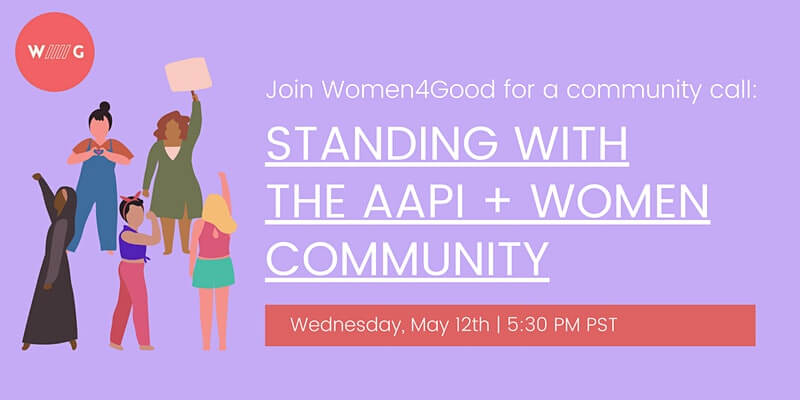 Women4Good stands in support of the Asian-American and Pacific Islander (AAPI) community. We're hosting our May Community Call to provide a space to listen to the experiences of our community members and take a stand against racism, hate and violence directed toward AAPI communities. We hope this discussion will help educate our Women4Good community about the discrimination and bias the AAPI community faces, discover the beauty of the AAPI cultures, offer resources for being a better ally and raise funds for anti-AAPI racism groups. Learn how you can stop AAPI hate by attending our community call. Join us in standing in solidarity with the AAPI community.
In the past year, the Stop AAPI Hate reporting center has received approximately 4000 reports of anti-Asian incidents. Of these, approximately 3000 incidents have been documented. Over 700 of these documented incidents occurred in the Bay Area.
The state of California has granted $1.4 million to the UCLA Asian American Studies Center and Stop AAPI Hate to help address anti-Asian hate incidents and hate crimes and the broader impact of COVID-19 on Asian Americans. Although this is a good start, there's so much more to understand and work to be done.
#StopAAPIHate #WomenSupportingWomen
Register here.